From humble beginnings in a two-bedroom townhouse to a 25,000 sq/ft shop, New Age Oilfield Services has experienced considerable growth since 2004, providing service to western Canada. Now employing over 60 dedicated staff members, we continue with the same values that made us who we are today – those of Quality, Integrity & Safety.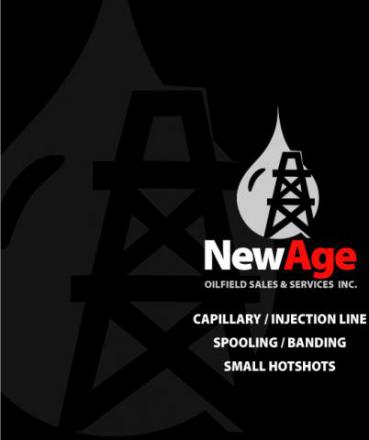 2003
The story of New Age Oilfield Services began in 2003. Mark Rhodenizer, New Age's founder, was working for an oilfield service provider in Nisku, AB, installing Electric Submersible Pumps (ESPs). Here he learned the mechanics of the oil and gas industry via visits to several locations in western Canada and the United States. While working on site in Midland, Texas, Mark noticed the neighboring lease using small diameter stainless steel tubing to inject chemicals and learned that they were using this to treat downhole issues. This was the first time he'd seen this type of service and Mark immediately recognized the potential for its use in the Canadian oil and gas industry. Over the following year he began designing equipment to install this small diameter tubing for similar applications, now known as Capillary or Chemical Injection Systems, in Marks spare time.
Around this time Marks employer started to get requests for this type of application in Canada, being that no other company specialized in this service. His employer was hesitant to fulfill customer requests for their ESP spooling trucks to provide the service to install these Capillary Systems. In many cases, these oilfield service companies didn't have the capacity to supply the equipment for this or it was deemed outside of core operations. Seizing the opportunity, Mark spent every minute outside of work designing the first spooling unit. This was the beginning of New Age Oilfield Services.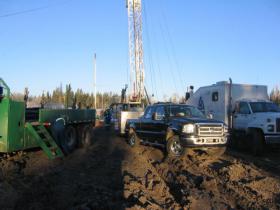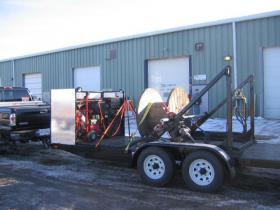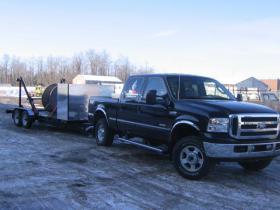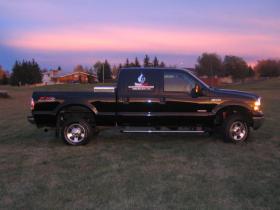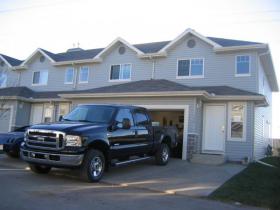 2004
New Age first operated out of Marks two-bedroom townhouse in Edmonton, AB. He spent months planning and building equipment, working hard to get New Age off the ground. Mark did whatever he could to ensure success: from personally delivering oilfield equipment across Western Canada to transporting aluminum boats to the Northwest Territories. The first vehicles the company owned were a new Ford Diesel (TR001) and a 35ft Gooseneck trailer (T-01). These were used to perform hotshots for a handful of oil and gas companies, generating some initial cash flow for the company. Mark spent hours researching and calling oil companies in hopes of securing a chemical injection line job. This finally paid off with New Age's first customer, Halliburton. New Age was contracted by Halliburton to perform work for Dominion Exploration.
In anticipation of the job, Mark spent the night prior preparing the first Spooling unit (SP001). The paint was dry in time and the project was a complete success. Work began trickling in shortly thereafter, averaging at least one chemical injection job per month, with transport and delivery services remaining part of the company's regular activities.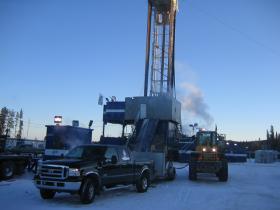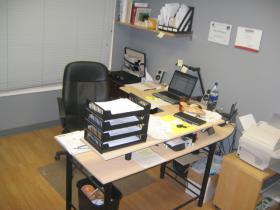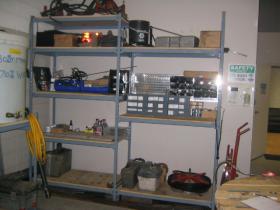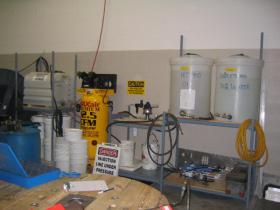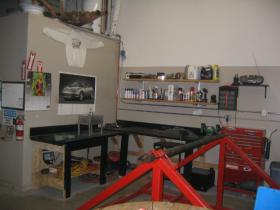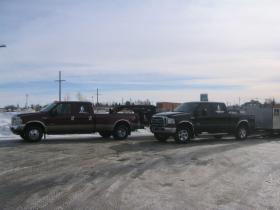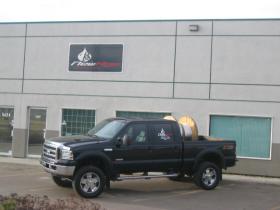 2005
Shortly after New Age's first year in business, the company gained a second truck (TR002) which was used for transport. The first employee also came on board, Mike Rhodenizer, Mark's brother. The guys were required to move into a 1200 sq/ft shop since condo bylaws restrict having a home-based business that included two diesel trucks in the driveway and a spooling unit in visitor parking! Between spooling work and transport jobs increasing, it was evident that a second spooling unit was required. Mark and Mike planned and designed a second unit (SP002) that was completed in early 2006.
Until this point, New Age only provided spooling services, leaving customers to order the capillary line from the US. Mark began sourcing for this along with fittings, check valves, and clamps. As a smaller operation this was a difficult process – payment was required upfront for all orders. Eventually New Age was able to provide service and supply material for chemical injection systems.
New Age Oilfield Services eventually became one of the biggest customers in Canada for some of these original suppliers.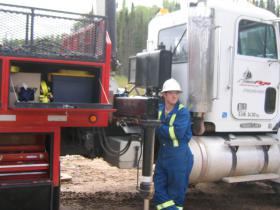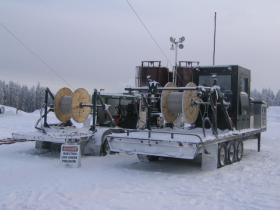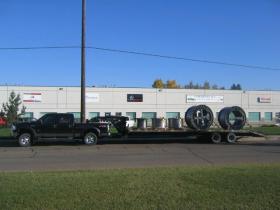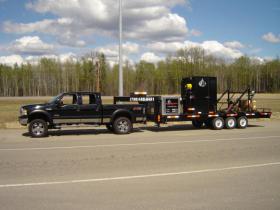 2006
One of today's key staff members, Josh Urlacher, joined New Age in 2006. Josh started in the field but worked his way up to become the Chief Operating Officer and part owner in 2017. In these earlier days, specialty requests were coming in for new types of work. Conoco Philips asked us to pull and run free hanging thermocouple bundles. Determined to meet customers' ongoing needs, the immediate answer was "Yes!" Mark reached out to Peter Lang to contract on development. Peter now runs New Age's in-house Engineering department but began by designing modifications to the existing equipment (SP001). By the end of 2006, New Age successfully began deploying this new service in observation wells. Today, we are the largest company in our class to do this. We continue to design and modify equipment to meet the safety and efficiency needs of our customers. This has included purchasing tooling and equipment that most oil companies would normally supply onsite, such as picker trucks.
Seizing the opportunity to make things easier for customers, New Age started supplying picker trucks and we filled our 1200sq/ft shop with tooling, testing equipment, and inventory.
2007
By 2007 New Age was completing chemical injection systems across Alberta, as well as in British Columbia and Saskatchewan. We were now servicing observation wells, subsurface safety valve deployments, and light transport trucks. To meet the growing demand, a third spooling unit was designed (SP003), and another truck was added to the fleet (TR003). New Age outgrew its shop and purchased a 5500 sq/ft building in Nisku, Alberta.
We completely gutted and essentially rebuilt the shop and yard. There were two offices, a lunchroom and plenty of room for storage and parking. It was a time of growth. We designed an all-aluminum spooling unit (SP004) that could be flown in for remote work via helicopter. We also secured a large contract with a SAGD provider to manage, refurbish and supply down-hole cross coupling protectors.
With steady growth and strong relationships, New Age became a recognized company in the industry.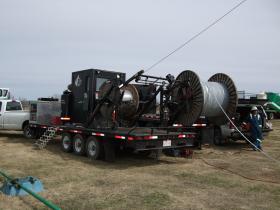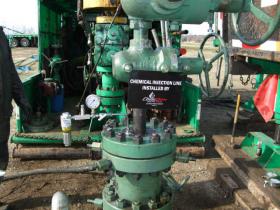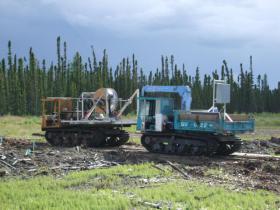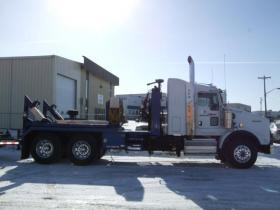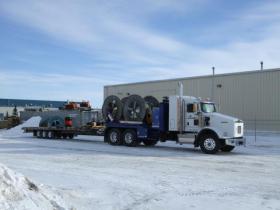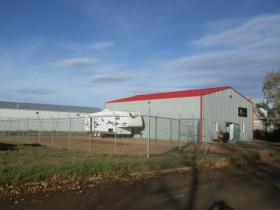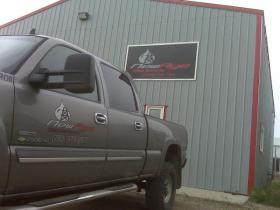 2008 – 2009
By mid-2008 we began receiving more requests for ESP spooling services so we ordered a new Kenworth T800 and built the first ESP spooling truck unit (SP005).
We began doing so much work in Weyburn, Saskatchewan, that we bought a 2500 sq/ft shop, with part of it rented to Marks former employer, which enhanced their presence in Saskatchewan as well. The summer was spent outfitting the new oilfield shop and building a fenced-in yard. Most of 2009 was also spent installing chemical injection systems in Weyburn and shipping ESP's back and forth between shops. New Age moved away from Weyburn 2 years later in response to shifting customer demand.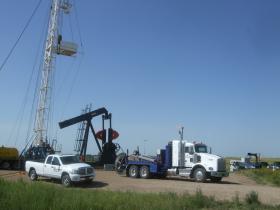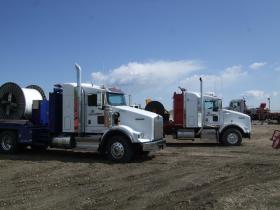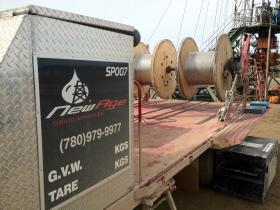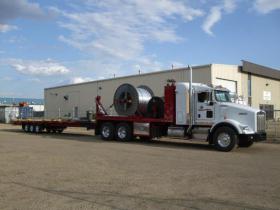 2010
New Age started to build a second ESP truck to accommodate the need to run a single ESP cable along with a Chemical Injection Line. This was an efficient design that could complete two jobs onsite with one piece of equipment, saving costs and space onsite. Until this point all services over and above the Chemical Injection Systems were treated as special requests that came in from New Age's customers.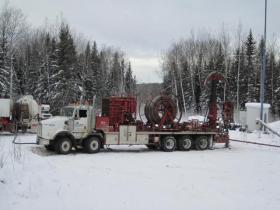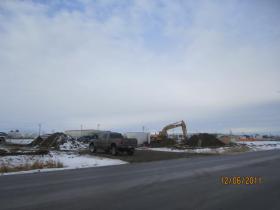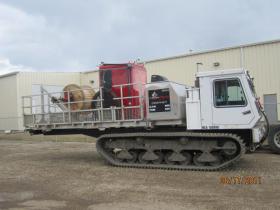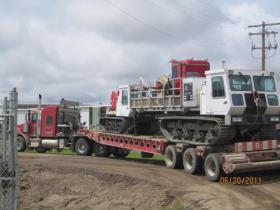 2011
In early 2011 we started building two more ESP spooling trucks that could now spool two secondary lines and one ESP cable. Through word of mouth and quality of service, New Age moved into the SAGD market one company at a time. We began designing skid mounted equipment that could spool two lines simultaneously, the original built on a customer's request.
This equipment is still working for the customer today.
There were no signs of slowing down for New Age. Cedric Vincendeau, now part owner and Vice President of Operations, started in 2011. Shortly after his hire we opened a small Calgary sales office that later also manufactured our own downhole temperature sensors. A Coil Tubing Services Division was added. We were rapidly outgrowing our Nisku facilities and decided to purchase 1.51 acres of land in the Leduc Business Park. New Age began to design and build an 11,700 sq/ft shop. Early on in the build, Mark became aware of discrepancies in the contractors work ethic and discovered that their trades were not being paid. The response to Marks inquiry on this was, "If you think you can do a better job than do it yourself." The next morning Mark hired all of their trades, paid them and thanked the contractor for his advice, and let him know he could leave. Mark held a meeting with all the Trades and, together, successfully finished the shop.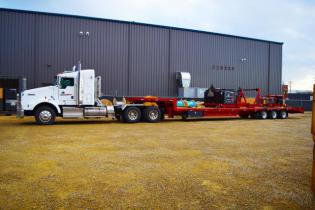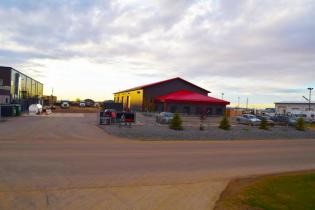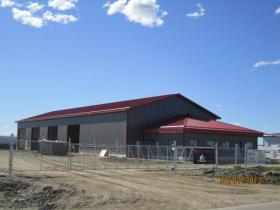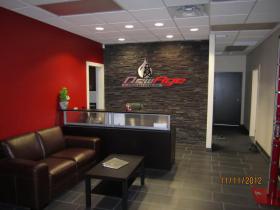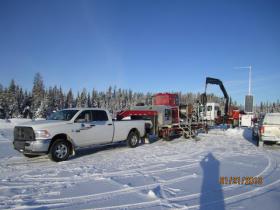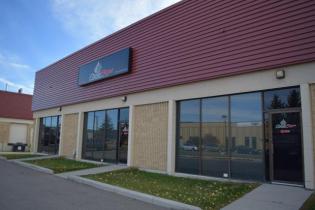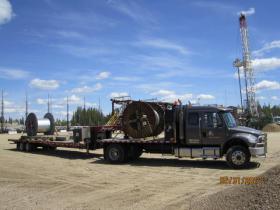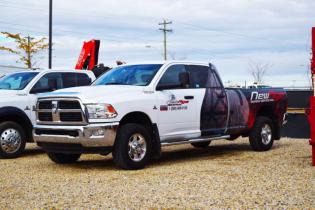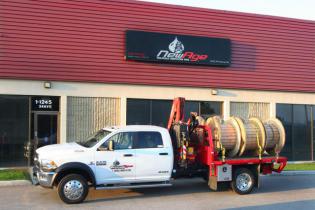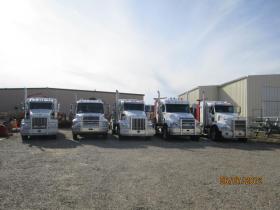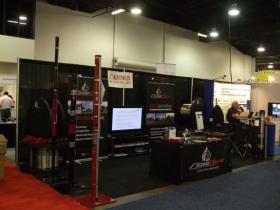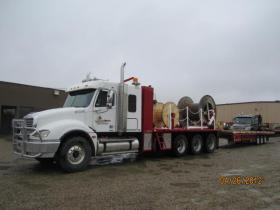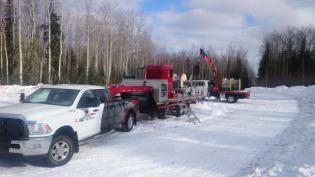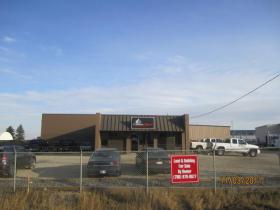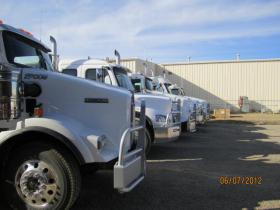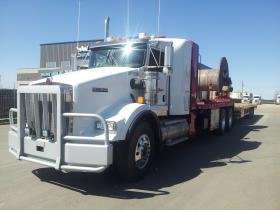 2012 – 2014
We moved into our new facility in November 2012. The new shop was slated for growth with six offices, a boardroom, lunchroom and plenty of yard and shop space. We also added a wash bay and a diesel fuel station. This period foresaw immense growth and added new customers in both SAGD and Conventional style oil wells. We also added the manufacturing of sensors and custom-built spooling equipment for SAGD. New Age was now a well-known name in the industry.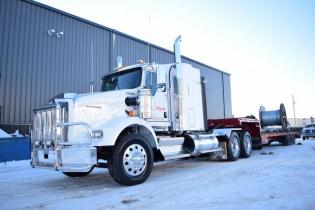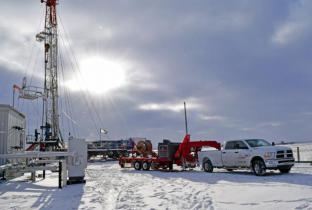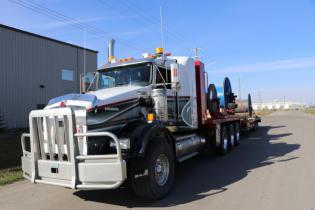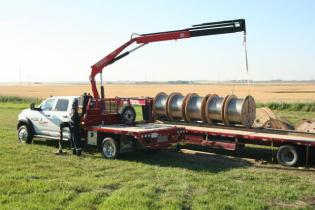 2015 – 2017
Alberta's economic downturn sent a shockwave that was felt by many throughout the oil and gas industry. Companies were requesting up to a 30% reduction in costs, projects were being cut, and layoffs were happening all around us. New Age had already anticipated its coming and had begun preparing, despite uncertainty looming.
We focused on strategic and innovative approaches to maintaining efficient operations with no layoffs.
This focus paid off as work increased in the following years. New Age kept growing, both in equipment and employees.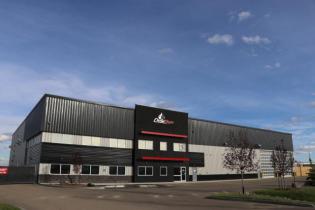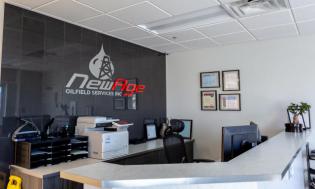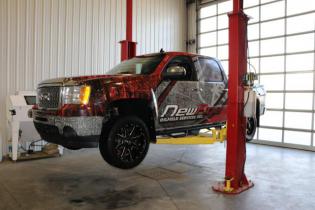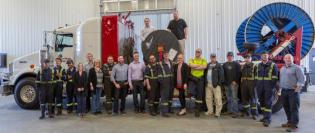 2017 – Today
In 2017 we decided to move to a larger facility, despite it being a huge decision amidst a downturn. Moving our services and manufacturing under one roof created efficiencies and lessened our footprint. We took advantage of the lower real estate market at the time and began designing our new building and yard. The Calgary shop downsized to a smaller sales office and moved manufacturing to Leduc, Alberta. In September 2017 New Age moved into the 25,000 sq/ft shop with 3.57 acres of land for growth in Leduc.
To this day, we continue to find ways to operate efficiently and stay ahead of the curve.
For more information please get in touch with us.